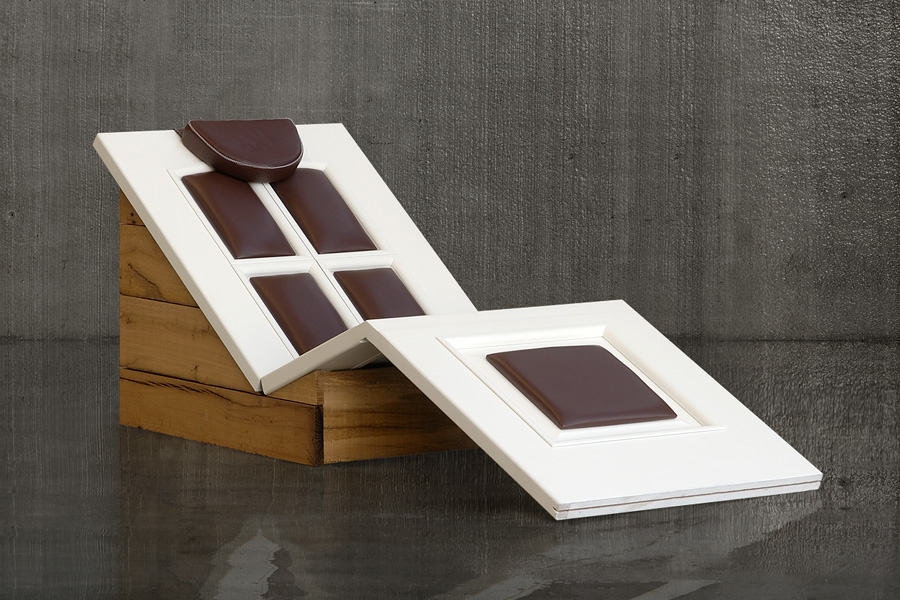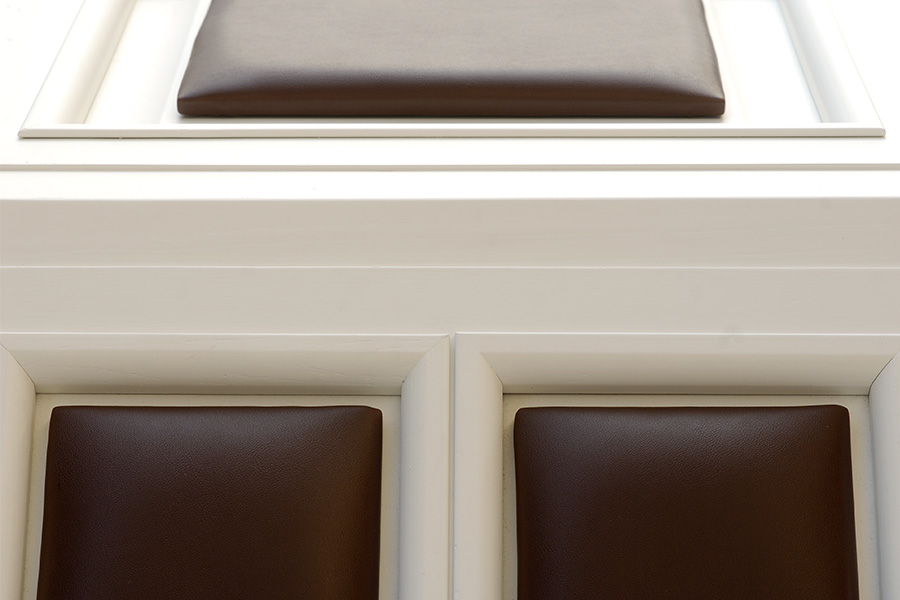 DEFORMAZIONE PROFESSIONALE
Professional Distortion
2012
Chaise Longue
Dimensioni cm 210x85x80h
Materiali: porta di recupero, pelle e rovere antico
Chaise Longue
Dimension: cm 210x85x80h
Materials: recycled door, leather and antique sessile oak
Reinterpretare le forme ricollocandole nello spazio. Più porte
assemblate divengono libreria e chaise longue:
"Deformazione Professionale" va considerata una linea di
oggetti realizzati per ragionare sulla funzionalità di quello che
non usiamo più. Attraverso una serie di lavorazioni artigianali
nascono due complementi caratterizzati dal contrasto
elegante di colori, di materiali, di pieno e vuoto. Due porte
verticali dotate ancora di chiavi e maniglie diventano la
struttura portante di una libreria sopra la quale si innestano
quattro supporti ricavati da una terza porta. La porta è sempre
il materiale di partenza utilizzato anche per la realizzazione
della chaise longue.
Libreria e chaise longue sono opere di grande impatto: le
porte laccate e utilizzate per una funzione diversa da quella
abituale attraggono lo sguardo disorientato offrendogli nuove
prospettive.
Re-interpreting objects by re-collocating them in the space.
Several assembled doors become a book shelf and a chaise
longue: "Professional Distortion" is a collection of artwork with
the purpose of making us ponder on the functionality of what
we no longer use.
Handcraft workmanship give shape to these accessories
characterized by the elegant contrast between colors,
materials and void and solid. Two vertical doors with
handles and keys become the supporting structure of a
book shelf on which four shelves made out of a third door are
inserted. The door is the matrix used also for the creation of
the chaise longue.
The book shelf and the chaise longue both have a strong
impact. The doors polished and reused with a function
different to the usual one attract the disoriented eye and
provide a new prospective.