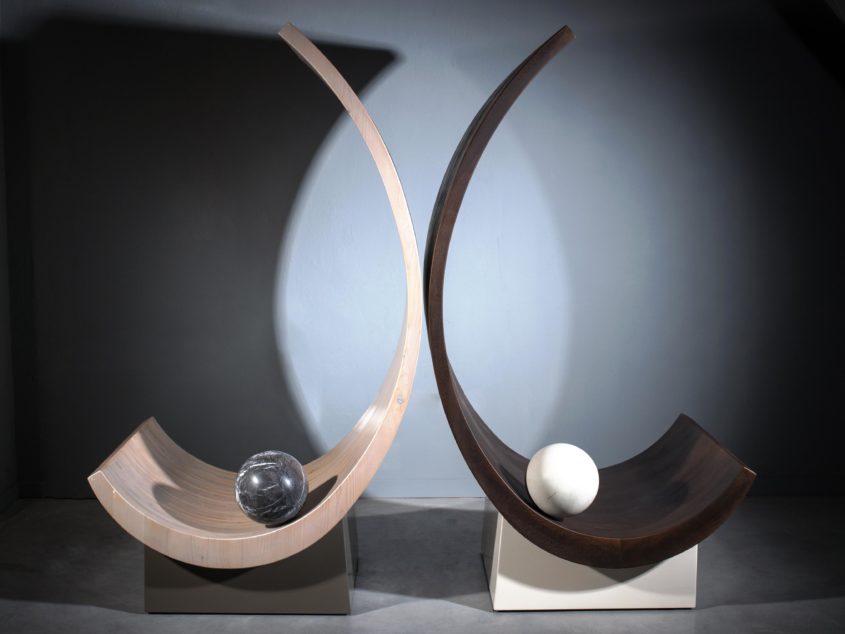 Attesa, 2013
Sedute, chairs
cm 90 x 110 x 190(h) each one
Legno rovere e abete sbiancato; legno laccato lucido bianco e grigio; marmo nero marquinia e marmo bianco asiago. Varnished oak and white washed fir; white and grey polished, Asiago and Black Marquinia marble.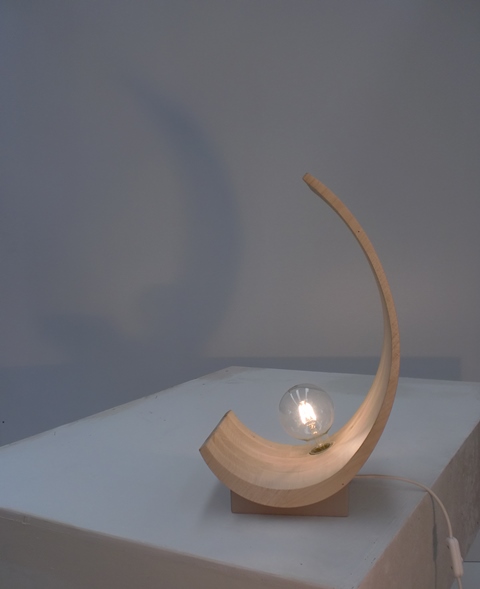 Attesa, lamp, 2016
Table lamp, lampada da tavolo
cm 21 x 28 x 50(h)
Acero e legno laccato, Maple and lacquered wood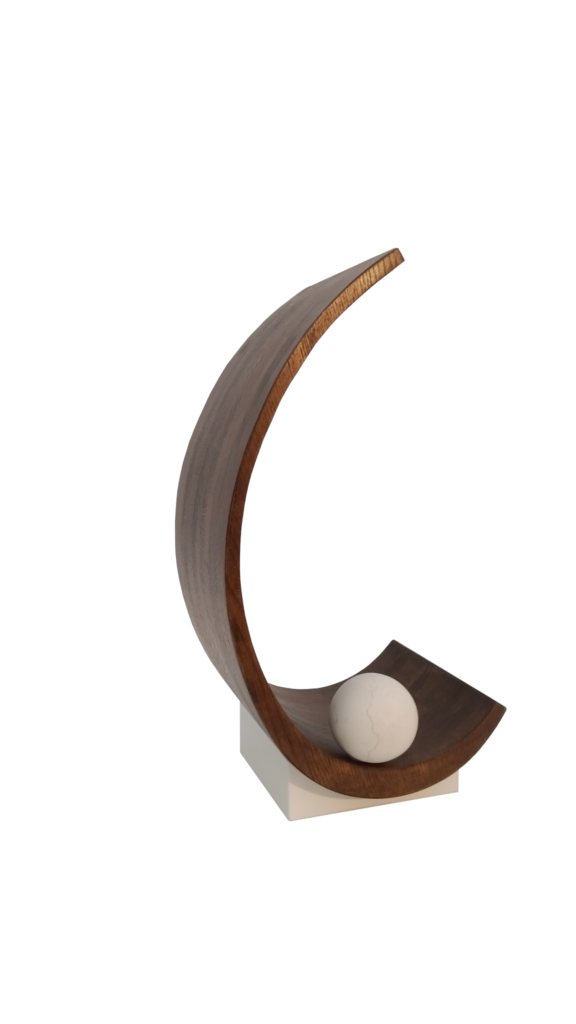 Attesa, miniature, 2016
Miniature, miniatura
cm 22 x 26 x 50(h)
Legno rovere, laccato bianco e marmo bianco asiago. Varnished oak , white lacquered wood and Asiago marble.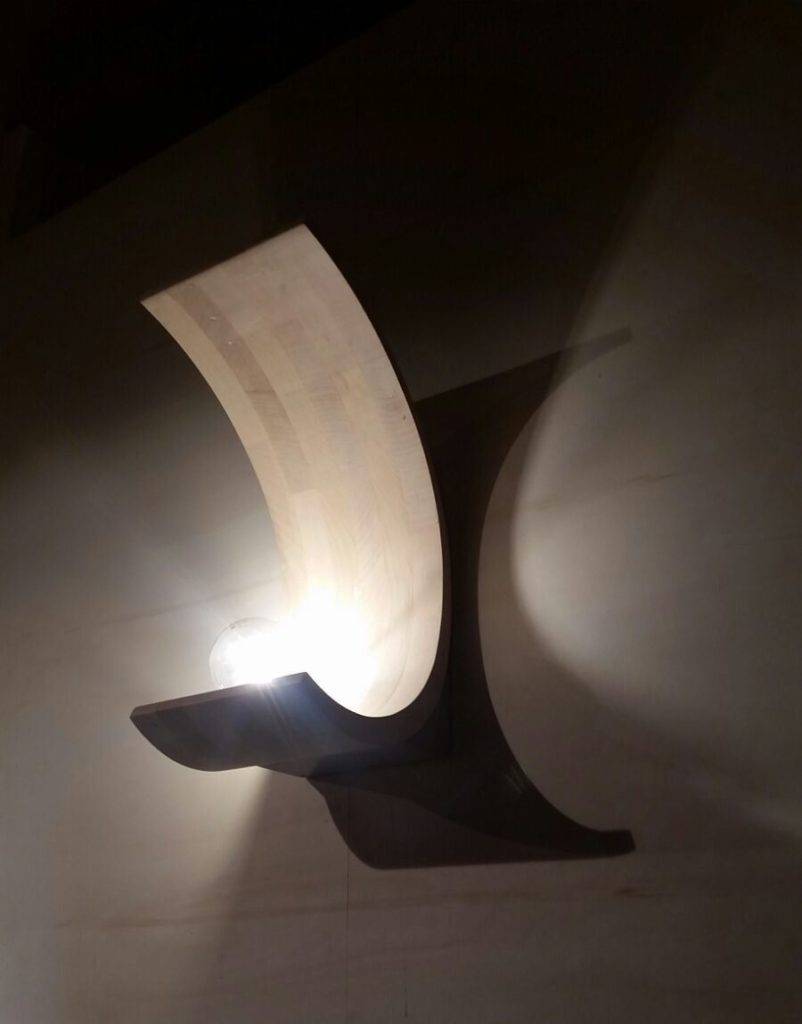 Attesa, wall lamp, 2016
Wall lamp, lampada da parete
cm 21 x 24 x 46(h)
Acero e legno laccato, Maple and lacquered wood
Due grandi linee curve si slanciano nello spazio con straordinaria leggerezza: simmetriche ma cromaticamente antitetiche, custodiscono due sfere di marmo che pare scivolino sullo schienale circolare. Osservandole lateralmente, si ha la sensazione che siano state immobilizzate durante la loro caduta verso il basso, quasi imprigionate in una dimensione senza tempo,
in cui il movimento è sospeso. L'opera ci parla proprio di questo, e vuole descrivere un frangente di tempo compreso tra il preannuncio di un evento e il suo verificarsi. La coppia di sedute, una in rovere verniciato e una in abete sbiancato, delineano nello spazio un gioco di curve e di simboli legati al mondo femminile e alla dimensione della maternità. Le due sfere di marmo – una bianco asiago, l'altra in marmo nero marquinia – sono al centro dello sguardo, sono semi ed embrioni di vita in grado di catalizzare l'attenzione. Attorno ad essi, schienale e seduta si fondono in una linea circolare e fluida che sembra attorcigliarsi su se stessa come per proteggere il nucleo.
Two big curved lines float light in the air, symmetrical but antithetical colorwise, and two marble spheres seem to be slipping down the circular seatbacks. When watching them from a side, it feels as if they were frozen while falling down, almost trapped in a timeless dimension, where any movement is suspended. "Attesa" is all about that and it aims at representing the very time lapse between the announcement of an event and its actual occurrence. The set of chairs, one in
varnished oak and one in white washed fir, trace a game of curves and of symbols in the air, which are linked to the female world and to the dimension of maternity. The two spheres , one in white Asiago marble and one in Black Marquinia are eye-catchers. They represent life seeds, embryos which draw everyone's attention. Seatback and seat merge together in a fluid,circular line which seems tocoil around to protect the nucleus.
Attesa collection
Valentina and riccardo Sartori for InDuo